Famous Cases: Terror in the Factory

Report Number: 8369
Date: June 3, 1967
Location: New York City


Misguided romanticization of vampires began in earnest in the 1960s. Many artists and writers saw vampires as misunderstood, tortured kindred spirits, the ultimate outsiders. But as one renowned New York artist was to discover, the truth about vampires was far different from the myth.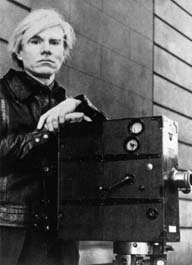 Andy Warhol

Background: Andy Warhol moved to New York City from Pittsburgh in 1949 and quickly established himself as a successful commercial artist. But it was when he began applying the techniques and subject matter of commercial art to paintings and sculpture that his career really took off. Warhol's interest in the visual arts eventually led him to try his hand at filmmaking. He made a string of experimental, often tedious works like "Empire," a six-hour static shot of the Empire State Building.

As Warhol grew more famous and successful, his New York apartment became a magnet for an oddball assortment of sycophants, dilettantes and hangers on. He dubbed his loft "the Factory" and transformed it into a combination studio and social club. Those who earned his favor became celebrities in their own right, with starring roles in his films. It was a competitive environment, as Factory denizens clamored for Warhol's attention, all anxious to be chosen as his next superstar.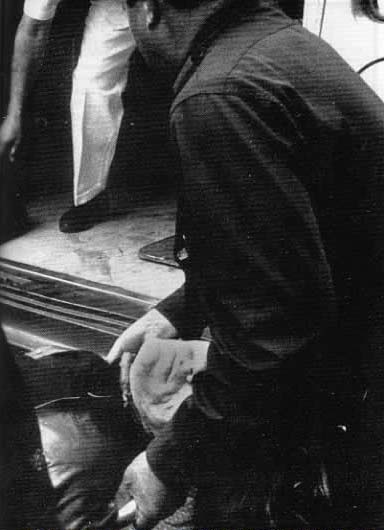 Emergency workers
rush Warhol to
the hospital

Incident: At 6:00 on the morning of June 3, a police dispatcher received a desperate phone call from an unidentified man asking to send an ambulance to 33 Union Square West. Paramedics arrived and rushed to the building's sixth floor to find Andy Warhol on the floor bleeding from wounds to his neck and wrists, the apparent victim of a vampire attack. Warhol was rushed to the hospital, where he actually died twice on the operating table before being revived. He received massive transfusions of blood and was treated with vampire vaccine.

By the end of the day, Warhol was stabilized. The many members of the press swarming around the hospital were told that the artist had been stabbed by an unidentified, deranged woman.

Investigation: Meanwhile, FVZA agents descended on Warhol's apartment to conduct interviews with witnesses. Agents learned that Warhol had been bitten by a female vampire known in the Factory as "Vox Superstar." Vox was actually a mentally disturbed young woman named Olga Kulbis who had developed an unhealthy obsession with Warhol while hanging around the Factory. When Warhol, who was fascinated with vampires (he made two fiction films about them), expressed a desire to make a film starring a real vampire, Vox saw an opportunity to enter his inner circle. She began taking nightly strolls around the Port Authority, an area of the city haunted by vampires, and was eventually bitten.

A few nights after transformation, Vox visited the Factory, where her appearance scared Warhol so much that he locked himself in the bathroom. Vox eventually convinced him she meant no harm, and Warhol set up his camera and began filming. Warhol had Vox sit on a couch and speak to the camera about her state. After several hours of filming, the other Factory regulars had drifted away or fallen asleep, leaving Warhol alone with Vox. The young woman seized the opportunity and attacked Warhol, pinning him to the floor. The artist's screams roused the Factory faithful and they chased Vox onto the roof, where she leaped thirty feet across an alley to the neighboring building and fled into the night.

Warhol would remember the attack as the worst pain he had had ever felt. He later told friends, "it hurt so much, I wished I was dead."

Over the course of the day, FVZA agents were able to trace Vox Superstar to the apartment she shared with Troy Boy, another Factory upstart. Surveillance revealed that both Vox and Troy had turned. Rather the wait for clearance to conduct a raid, FVZA officers set up a stakeout that night. When Vox and Troy emerged from the apartment, the agents struck, destroying the two vampires with precise shots from their "Migraine Mollys." The operation was carried out with the highest degree of secrecy, and the next day's newspapers attributed Warhol's injuries to a shooting.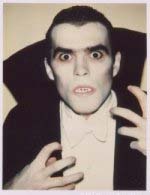 "Count Dracula," a
1980 Warhol Polaroid

Post-Mortems: The vampire attack had a profound affect on Warhol. He ceased to produce important works of art, and for the rest of his life (he died in 1987), he took to wearing turtlenecks in public to hide the scars on his neck. Still, Warhol continued to be fascinated with vampires, and they appeared over and over again in his art. As for his unfinished vampire film, police confiscated the negatives as evidence the day Warhol was bitten. A week later, the negatives disappeared from the evidence room, never to be seen again. Although rumors of bootleg copies of the film have emerged, thus far Andy Warhol's vampire opus appears to be lost to history.

Comments from Dr. Pecos: Andy Warhol was not the first person to make the mistake of letting his guard down around a vampire. Vampires can be exceedingly charming when they need to be. They will joke, cajole and flatter, and just when you think, "vampires aren't so bad," you've got a pair of fangs buried in your neck.
---
© 2001-2009 Dango Productions, Inc.